2020 salutatorian wants to return to teach history at Nixyaawii Community School
Cloe McMichael is comfortable being a bit of a contradiction.
Or should we say she's not bothered if people thinks she's a little different. When this light-skinned Indian heads off to Corvallis and Oregon State University in the fall, she will be one of the few students who won't be accumulating debt. Cloe is one of this year's 125 Oregon scholars – the first from Nixyaawii Community School – to receive the Ford Family Foundation Scholarship, which will pay for 90 percent of unmet needs, up to $40,000 a year, over the course of completing her four year bachelor's degree, and the possibility of a two-year extension toward a master's.
The first person in her family to attend college, Cloe has been teased at school for her light skin color, yet she has stronger connections than many young people to her Native American culture and traditions. She practices Washat on Sundays, digs and cleans roots, and cooks for feasts at longhouses up and down the Columbia River from Lyle to Priest Rapids.
"People have made fun of me … the white girl going to an Indian school," she said during a mask-to-mask interview May 21.
However, she said she believes in all things Native American and wants to pass those beliefs on to the next generations of Tribal members by earning a degree in education so she can return to NCS to teach history. And while Tribal history is obviously important, Cloe's passion is actually U.S. history. Even her own history is mixed.
She is a direct descendent of both Kamatzpalu, a Cayuse war leader who was a signatory to the Walla Walla Treaty, and Alexander McKay, who helped found the present day city of Astoria.
"My love for history stems from watching documentaries in my grandpa's man-cave and having him tell me all the history that he has been through and just realizing that we are living in history right now and there needs to be people who are going to teach the next generation of children what happened to people in the past and present," Cloe said.
She recalls her eighth grade East Coast trip when the historic places students visited, like George Washington's home, weren't that impressive.
"It was a cool experience, but I didn't love history. I wasn't processing when people did things."
That changed when Cloe reached high school and U.S. history was revolutionized for her by NCS teacher Zack Brandsen. In her year-long government class project, Cloe focused on Columbia River dams and how those concrete barriers interrupted the living conditions, relationships and traditional activities of Tribal people that lived along the Big River, particularly at places like Celilo Falls and Priest Rapids.
"But he (Brandsen) made me realize I love U.S. history. He made it engaging … He pushed me to do my best, but also showed me where I could go and how successful I could be if I put in the work."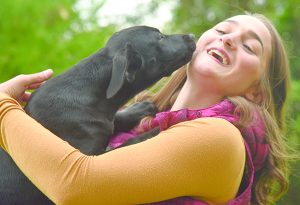 She particularly likes the Revolutionary War and how the United States was founded by people like Alexander Hamilton. She knows all the lyrics and would love to see the Broadway play of the same name as the Constitution signer. This year's Salutatorian with a 3.95 GPA (she received a B in Algebra II as a sophomore) said she enjoys school because she loves to learn.
"I know it's weird, but going into a classroom and learning something new or how to do something new is the coolest feeling, just knowing that you are smarter every day I left the school building is what made it so enjoyable for me," she said.
Cloe hasn't had time yet to be nervous about leaving for the other valley, the one on this side of the Columbia.
"I've never been away from home for more than a week and a half," she said. "But moving away from home … time to grow up a little and become an adult."
At home, Cloe will be leaving her parents, Trish and Jered McMichael, her 13-year-old brother, Ryan McMichael, who she has been helping with distance learning, and two sisters, Faryn Sanchez, 26, and Melissa McMichael, 21. She will also be leaving in Mission her paternal grandparents Therese and Terry McMichael, maternal grandmother Melissa Wilson, and maternal great grandparents Francis "Foy" Wilson and Laura McKay. She has spent the COVID-19 stay-at-home spring finishing her senior classes and spending as much time with family outdoors in the mountains.
It's sad, she said, that her senior class doesn't get to take part in the usual graduation activities, including prom. She said it was "weird" that Pendleton High School, where her boyfriend, Caden Primus attends, was having a "drive-through" graduation.
Cloe and her best friend, Chelsea Farrow, have likely violated social distance rules hanging out during the COVID-19 lockdowns, but nobody's going to tattle-tale. By the way, Chelsea is heading off for Pacific University in the fall. Cloe is a member of a mostly liberal community, but has "middle" if not somewhat conservative views.
"I don't voice my opinion that much," she said. "They (students) go at me if I don't think the way they do sometimes."
For instance, while she certainly isn't alone in her thinking, Cloe's view on COVID-19 may not be consistent with the majority of residents on the Umatilla Indian Reservation. She realizes people are dying during from the coronavirus pandemic, but she sees the economic crisis as well.
"They need to let people make decisions for themselves and not have the populations make decisions for Americans that need jobs to be able to live," she said.
When she's had to stay indoors, Cloe has stayed busy. Her mother, Trish, said Cloe went crazy with a label maker and reorganized the pantry and cupboards. She also placed all the loose photographs in photo albums.
"It's been a blessing for me," Trish said.
At home, Cloe also is busy with horses and pays special attention to Rosie, who is getting fat, and a new puppy named Tadme. The chickens scratch and lay eggs like chickens are supposed to do and the turkeys gobble and mostly act indifferent.
Soon Cloe, with the help of that Ford Family Foundation Scholarship, will start to focus on college where she plans to continue to grow, perhaps in a contradictory fashion, because it doesn't bother her to be a little bit different.
CLOE'S INVOLVEMENT 
The Ford Family Foundation, which is based in Roseburg, Oregon, each year selects 125 Ford Scholars.

The award covers 90 percent of unmet college costs and is calculated on the cost of attendance tuition, fees, room and board, personal costs, etc.), minus other grants and scholarships.
Cloe McMichael also has learned of a $3,000 scholarship from the Umatilla Electric Cooperative.

Among other things, Scholars are chosen for academic achievement, leadership, character and volunteer service.

Cloe is the 2020 NCS Salutatorian with a GPA of 3.95.

She has been involved at Nixyaawii Community School in Communicare, National Honor Society, Leadership, SALT - Student Athlete Leadership Team, National Society of High School Scholars, volleyball and golf.
She also is active in traditional and cultural lifeways, including weaving, and takes part in longhouse events at home and at other tribal communities.

Until COVID-19 closed the restaurant, she also worked at Quizno's in Pendleton.