By Wil Phinney of the CUJ
MISSION – For the second time in May, results were negative for more than 100 people tested for the active COVID-19 virus on the Umatilla Indian Reservation.
A third round of testing for the novel coronavirus, a worldwide pandemic that has killed more than 103,000 people in the United States, is planned June 16 for 50 employees from Yellowhawk Tribal Health Center and June 17 for 50 others who interact with the public at different facilities owned or operated by the Confederated Tribes of the Umatilla Indian Reservation (CTUIR). That includes employees from the Nixyaawii Governance Center, Arrowhead Travel Plaza, Mission Market, Kayak Public Transit, Wildhorse Resort & Casino, plus the Tribes' police and fire departments.
Angie Dearing, Clinical Director at Yellowhawk, said epidemiologists that were consulted for this study said a statistically relevant study, assuming a reservation population of 3,500, needs to test at least 71 people. On May 26 and 27, a total of 114 people were tested in the second round.
Dearing said she's a "little bit" surprised that all the tests for the active virus have been negative, considering the number of cases around the area, nationally and worldwide. With an estimated 5 percent of the population symptomatic, Dearing said it was conceivable to expect one in 20 of the tests to come back positive.
"We could have expected six or seven at this point," Dearing said.

Dearing said Yellowhawk decided to do its COVID-19 Surveillance Study to determine the prevalence of COVID-19 on the Umatilla Indian Reservation to help decide when and how the clinic should re-open.
"We saw it all around us, but we just weren't seeing patients coming through with symptoms," she said. "We were monitoring ERs and hospitals and it was worrisome in a way. We thought how do we make a decision to re-open if we don't know what is out there?"
More than a dozen staff from Yellowhawk, including six nurses, three lab technicians and a doctor, are conducting the tests. Yellowhawk employee volunteers are tested on Tuesdays in the clinic. Other volunteers are tested on Wednesdays at the Kayak Public Transit bus barns. In addition to the Yellowhawk clinical staff at the stations that provide a nasal swab test for the COVID-19 virus and a blood test for COVID-19 antibodies, Yellowhawk has repurposed other employees to direct traffic and assist with the participant check-in process.
The testing process, according to people who have been tested, is streamlined, efficient and organized. But those same people don't use such positive words to describe the invasive testing itself. They use terms like scary, intense and frightening. Fortunately, it's over quick, they said.
Having a swab inserted three inches up your nose is a surprise the first time. But it was a shock the second go because instead of the flexible sticks the in mid-May test, Yellowhawk had to use swab sticks that had the flexibility of a "lollipop" stick.
"That first time we had premium swabs that were flexible, they could snake around the corners easier," Dearing said. "But there's a shortage of supplies and … this time we were issued swabs more like lollipop sticks that pushed through the tissue."
The six-inch sticks had to penetrate three inches into the nasal cavity "back to that lower nasal wall, the lower sinus turbinates … way back in the nose."
Alaina Mildenberger, Office Manager in the CTUIR Public Works Department, volunteered for the test because her partner works for UPS and works with packages handled by many others. She also wanted to know if she had the antibodies that would battle coronavirus. (An antibody is a protein produced by the body's immune system when it detects harmful substances, called antigens.)
Mildenberger said the testing procedure was "quick in and out" the second time, but that new swab, man.
"It seems like it had to go up a long ways, up and twist it a while," Mildenberger said. "I don't know if it's how far, or how long it was up there. It was intense. I wasn't expecting it this time."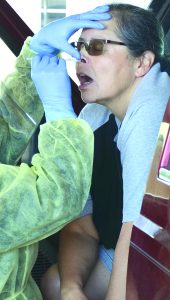 Sandra Sampson, Treasurer for the CTUIR Board of Trustees, said she's all about testing to establish a baseline for making health-related decisions.
Sampson said the test wasn't just "scary in the back of my throat."
"The scary part for me was what that it would be positive and I'd be in quarantine for 14 days," she said.
Sampson said testing needs to continue even after Yellowhawk completes its three-phase study.
"We haven't done a lot of testing and the more we open up the more people will be thinking it's okay. I think we still have to be a little paranoid. I have grandchildren and little children around. We gotta be careful. It's hard for kids to understand, even teen-agers. We have to limit access to other people."
Dave Tovey, Executive Director of the Nixyaawii Community Financial Services, called his May 27 nasal swab a "brain tickler."
"The first one wasn't too bad. You feel a deep throat tickle and almost gag. This time it was 'YOW!' I was sneezing all morning," Tovey said.
He was impressed with the process. With roads blocked off, Tovey drove between Nixyaawii Community School and Yellowhawk where he was stopped and asked his name and date of birth. He was given a number – B52 for Tovey. A call ahead alerted Dearing to gather B52's specimen bag and labels, which she hand-walked to a nursing team.
Tovey turned the corner, but was stopped and his name checked again, and given the opportunity to have any questions he had about the study answered before he entered one of the testing stations. He was greeted by Yellowhawk staff in full PPE (personal protective equipment). He was asked to turn off his vehicle engine and swing his legs out where a nurse proceeded to "jam a swab up there."
"Yow."
Tovey said the six-inch swab was eight inches long.
"I know it goes all the way up there. It felt like it went deeper. When I was leaving and talking to the guard the one thing people say is it's like that moment when you take in a bunch of water and you're losing your breath. You're not necessarily drowning, but you feel like you're getting ready to. Today it was very much like that. A little frightening. But I knew what it was and in two weeks I get to do it again."
Dearing explains the nasal swab in slightly more clinical terms than Tovey did. She said it takes three to five seconds. The volunteer slightly tilts his or her head back and the swab is inserted perpendicular to the plane of the face. It's held there for about three seconds, twirled and pulled out. The six-inch swab is trimmed to three inches so the sample will fit into a saline-filled vial, which is capped, labeled and placed in a specimen bag. The viral testing is done by Interpath Lab in Pendleton. The antibody test employs a small lancet device for a finger-prick blood sample. Only a drop of blood is needed.
"People are in and out. The longest I've seen is about 10 minutes and even that's a push," Dearing said. "It's a streamlined process with a safety mechanism that protects patient rights."
Heather Anderson, Public Relations Manager at Yellowhawk, said, "We did the testing to inform our own decision and are sharing the information with the ICT Team to help them with their decisions on opening other tribal entities."
ICT is using test results as guidance, along with other data and information from national, state and local levels, in its re-opening plans for Tribal government and entities. Wildhorse Resort & Casino actually re-opened May 28 before results of May 26 and 27 testing were released.
Dearing said she has no empirical evidence that the Tribes' "Stay home, save lives" effort can be credited with the test results for the Umatilla Indian Reservation, but she said the CTUIR's "quick, definitive decisions" must be working.
"The stay home orders were quick and clear," Dearing said, "and the community has done a good job following those orders. I do think that's played a huge role in limiting the exposure. I can't prove anything, but that's what we're all talking about."