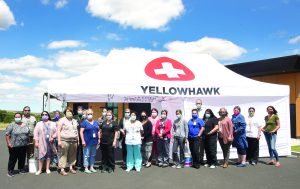 Staff from Yellowhawk Tribal Health Center on the Umatilla Indian Reservation stand in front of the tent that's been erected on the northwest side of the clinic where COVID-19 testing will now take place.
By the CUJ
MISSION – Two employees of Tribal "entities" have tested positive for COVID-19, according to a news release issued Wednesday, June 17, by the Incident Command Team for the Confederated Tribes of the Umatilla Indian Reservation (CTUIR).
Officials could not say whether or not the individuals are enrolled members of the CTUIR, only that they work for the Tribes, which have government operations and businesses stretching from Oregon and Washington to Utah and Hawaii.
The two cases are in addition to the first confirmed case of COVID-19 on the Umatilla Indian Reservation that was announced on Tuesday, June 16.
Because the first positive case is an individual who resides on the Umatilla Indian Reservation, Yellowhawk Tribal Health Center had jurisdiction to conduct the case investigation and follow-up with close contacts to provide them with education and guidance.
Umatilla County Health Department is working with the two individuals who came forward to inform the CTUIR of their positive results. Who they informed was not included in the news release, but one could deduce they work for a Tribal entity and live in Umatilla County.
"We are aware of three cases of COVID-19 – one resident of the reservation and two employees who live off the reservation," Kat Brigham, Chair of the CTUIR Board of Trustees, said in the official news release. "We want to be as transparent as possible when we receive information. And we want to make sure everyone knows what to do if they believe they need a test."
Certain specific information about individuals cannot be released because of the Health Insurance Portability and Accountability Act, better known by its acronym HIPAA, which is a 1996 federal law that restricts access to individuals' private medical information.
Yellowhawk patients who have questions about whether they should be tested should call the clinic at 541-966-9830.
A tent has been set up on the northwest side of the clinic for testing. Yellowhawk has also designated a separate entrance for those who wish to be tested inside. That entrance insures there is no contact with patients who are at the clinic for non-COVID-19 related services.
Those who meet the following criteria must make an appointment in order to be tested between 8 a.m. and 4 p.m. Monday through Friday until further notice.
Yellowhawk patients will be tested if they have any COVID-19 symptoms or if they are a "known close contact" of a person who has tested positive for COVID-19 with a viral test.
A "known close contact" is someone who has been exposed (within six feet for 15 minutes or longer) to a person who has tested positive for COVID-19. They must self-quarantine for 14 days and monitor to see if any symptoms develop. They will be contacted by Yellowhawk or the Public Health Department in the county where they live to inform them of their exposure (14 day self-quarantines are legally enforceable).
If you are experiencing a medical emergency, call 911.
People who live on the Umatilla Indian Reservation but are not Yellowhawk patients should call their primary care provider if they are experiencing symptoms or have concerns about their health. Employees of CTUIR entities, tribal or non-tribal, are eligible for COVID-19 viral testing at Yellowhawk and should contact the clinic if they have questions or meet the testing criteria above.
"Please wear your masks and take all the precautions," urged Brigham. "People are getting careless because we had no cases. But the virus is a threat and now we are surrounded by hot spots."
COVID-19 has claimed four more lives in Oregon, raising the state's death toll to 187, the Oregon Health Authority reported at 12:01 a.m. today.
Oregon Health Authority reported 148 new confirmed and presumptive cases of COVID-19 as of 12:01 a.m. today, bringing the state total to 6,366. The new confirmed and presumptive COVID-19 cases reported today are in the following counties: Clackamas (12), Columbia (4), Hood River (3), Jefferson (4), Klamath (4), Lincoln (4), Linn (1), Malheur (4), Marion (26), Morrow (4), Multnomah (33), Polk (3), Umatilla (13), Union (5), Washington (25), Yamhill (3).