By the CUJ
PENDLETON – Megan Van Pelt is the new Associated Student Body (ASB) President at Blue Mountain Community College (BMCC) in Pendleton.
Van Pelt, an enrolled member of the Confederated Tribes of the Umatilla Indian Reservation (CTUIR), will be a sophomore at BMCC this fall and, after graduation next spring, plans to transfer to Arizona State University in Tempe, Arizona.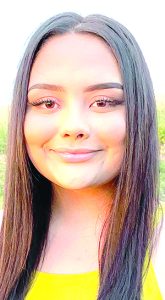 A graduate of Pilot Rock High School, Van Pelt started her BMCC student body career this year as a "senator," assisting with "small tasks" like chairing movie night.
But as her freshman year continued, she became more interested in student government and began attending BMCC Board of Education meetings to learn more about the community college.
She helped re-start the Native American Club with members who meet regularly in Morrow Hall. She manages the school's Native American Club Facebook page.
Van Pelt said her goal as ASB President is to make BMCC "more diverse and welcoming."
"With the help of the Latin-X and Native Club, I know we can create opportunities and spaces for minorities," she said. "In other words, I want these communities and more to be acknowledged and there's a couple of ways to accomplish this."
Van Pelt initially wanted to simply broaden the Native American Heritage Month event on the BMCC campus, but she realized there are other groups and activities to recognize and celebrate.
"I know there's more to do," she said, noting the calendar routinely includes specific holidays and events like National Hispanic Heritage Month and Black History Month.
"We can create workshops and presentations on campus to spread awareness," Van Pelt said. "I want all students to acknowledge and think more. And on top of this, I want to continue to be an advocate for students through my position."
According to the Associated Student Government Constitution, the ASB President's main responsibility is to be the liaison between the students, the BMCC administration and the BMCC Board of Education.
But Van Pelt wants to be more than that.
"I want to have a lasting impact," she said, "like my Aunt Kathryn Brigham, the first chairwoman (of the CTUIR Board of Trustees) in the past 60 years. I want to help incoming tribal students adjust and prepare for BMCC and I'm looking forward to meeting and aiding tribal students in their academic pursuits."
Van Pelt is eager to hear from students, parents or anyone else interested in Blue Mountain Community College. Her title this summer is Native American Liaison, but she said it's really a student mentor and she's ready to help.
E-mail her at mlvanpelt2629@mybluecc.edu.