CTUIR loses two tribal members to COVID-19 in August as cases spike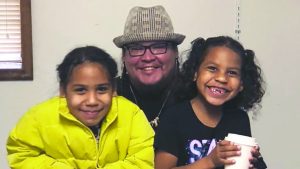 By Cary Rosenbaum of the CUJ
MISSION – By definition, "átway" is the Umatilla Tribal word used to respectfully name a deceased person.
Two átways were added to Yellowhawk Tribal Health Center's daily report in August, including 39-year-old Michael Gavin — the son of Tribal leader Shawna Gavin and brother of Tribal leader Jill-Marie Gavin-Harvey.
Yellowhawk's Interim CEO Aaron Hines called the losses "devastating," noting the community's case rate in August has more than quadrupled last August's count from 14 to 60.
"It has been heartbreaking to hear persons deteriorate daily until our staff send them to the E.R. or they require hospitalization or they pass away," Hines said. "It's devastating. It's frustrating. It's irritating. It's saddening. Our staff is doing their best to lead the effort to protect the community against COVID-19."
Board of Trustees Chair Kat Brigham said the Tribal government sent its thoughts and prayers to the families, and urged Tribal and community members to get vaccinated.
"We still have four more months in 2021 and pray that more CTUIR members and community members will get vaccinated to help avoid any more possible loss due to COVID in 2021," Brigham said.
Shawna, the Tribe's General Council Secretary, hoped her son would glide through the sickness safely, despite being unvaccinated.
"As my son's condition worsened, I began asking our family and friends to pray for his recovery," she said. "As we know, that was not to happen. I desperately wished he'd been vaccinated. It's very possible that had he been vaccinated, his case would have been mild and he would still be here."
Jill-Marie said her brother had a general mistrust of the government, and noted the CTUIR is less than 50 percent vaccinated.
"I think it just boiled down to: He likely didn't have enough information," she said. "As his sibling, in retrospect, I wished I'd had more conversations with him about it — though there wasn't much you could do to deter what he had decided. He was unsure of the vaccine."
Prior to the two deaths, the Tribe had only lost one Tribal member over the course of the pandemic.
With the Pendleton Round-Up around the corner in mid-September, Tribal officials released recommendations for CTUIR members to safely attend the event. They fully expect a rise in cases to be linked to the event, which plays host to thousands of visitors each year.
Shawna was one of a number of Tribal leaders who spoke out against Tribal members attending the annual event during a virtual meeting with Pendleton Round-Up officials.
"I understand your desire to go forward, but I don't support the event this year," she said. "I appreciate your work that you did to try to mitigate the threat to our community, but I can tell you that I will encourage my entire family not to go near Pendleton Round-Up this year."
BOT member Armand Minthorn also spoke against it, saying it is very concerning there will not be a limit on the number of attendees.
"I have a big concern that Round-Up is going forward," he said. "Mainly because the after effects of the Round-Up — that's when things will begin to happen. … The steps that Round-Up is taking (to protect the community from COVID-19) are great, but I believe it's not enough."
Teara Farrow Ferman encouraged Tribal members and employees to continue wearing a mask, social distance and remain safe for the coming weeks in an Aug. 31 memo in which the Tribe also announced mandatory vaccinations for four entities.
At last update, on Aug. 30, Yellowhawk had five new cases, 15 active cases, and 476 total cases. The vaccination rate is listed at 46 percent, one active case involves a person who is hospitalized, and there are three confirmed deaths.
Hines said Yellowhawk staff have close connections with their patients."They are our family, friends and co-workers," he said. "When working in healthcare, you develop a close connection with the patients because you hear their stories, their health concerns, their worries and their successes. You build that trust with the patients as you become a part of their health journey.
"Our contact tracers and nurses are in contact with cases and contact them daily," Hines added. "They know our patients well — they become like family members, in a sense. Our staff care for them."
Hines said Yellowhawk is fighting misinformation.
"We're fighting fake news that's spread around social media," he said. "It makes our job that much more tough. COVID-19 is real and we need everyone to do their part."
Atway Michael Gavin
Gavin was named "hey-oo-makin," which means grizzly bear roaring up. The name dates back more than 100 years to a signer of the Treaty of 1855, the family said.
The Longhouse religion, Washat, was one of the two worlds Gavin navigated regularly in life, including his devout belief in Christianity. In fact, he was days away from becoming a salaried pastor before his hospitalization for COVID-19.
Family members say he was very proud of being a Cayuse man: exercising his treaty rights, participating in the Longhouse ceremonies and growing his hair long. His uncle Calvin Shilall, a respected traditionalist who once held the title of whipman within the Tribe, taught him many lessons along the way — lessons he planned to pass down to his own nephews and nieces.
"He was the best uncle in the universe," Gavin Harvey. said. "He was always invested. He couldn't wait for the day until his nephews and nieces were old enough to go hunting. That was going to be his pride and joy."
"Thirty-nine years, 39 lives," is how some family members described Michael Gavin, a 39-year-old CTUIR member who lost his battle with COVID in August.
Bouncing between polar opposites — being a devout Christian who took missionary trips to a gang member in the inner city to a traditional Cayuse lifestyle — he lived it all, and carried experiences he was ready to use to help others for the remainder of his life. He was on the verge of realizing a dream become a full-time pastor for the local Church (name) when he suddenly contracted and passed away from COVID-19.
He was one of two CTUIR members to pass away in August, after the Tribe went 17 months with only one death.
"I will most remember all of the times we shared swimming, fishing and cmaping together. We continued to do those things all the way into our adult lives and they always reminded me of being kids again. The sharpest memory that comes to mind is a time I was being pulled down some rapids and I was scared I was going to be swept away and he came out and pulled me back in.
He played multiple roles. At times, he was a protector, he definitely had a tendency to be the typoical older brother and used to punch the air in front of him coming down the hallway and say "f you get hit, it's not my fault, I'm just walking forward." That was one of his favorite games to play on me and my older brother Derek. He was sagely in the advice he gave, he was a teacher and he was a shoulder to cry on when we needed him to be.
He had very close connections with both of my kids, but he was very excited about my son Nakai because he was the first boy in our family. He was looking forward to all the things they were going to do. My son is very rough and tumble and tends to be pretty tough about all of it and that was alyways something my brother talked baout that he liked.
To me, he is a man who did everything he could to take care of his family. He is going to be remembered through his work that he did with the communities he was part of, with his church and through Tribal youth he impacted. His legacy will be the teachings he passed down continuing to our children, his nieces and nephews will always remember how special of a relationship he had with each one of them.
Because of the nature of COVID I was afraid of the worst but hoped for the best. One think I take solace in is the belief that we have no control over when our last moments are here.
His Tribal identity was a lot of who he was. His ability to find parallels between Christianity and our Traditional belief system gave him a certain reassurance in his walk between the longhouse and the church. He cared for his people deeply. My brothers involvement in a gang was spent with my and my older brother. Seeing him leave and hearing the reasons he had for going was hard. Watching him dedicate himself to the reason he left and see that flourish made me proud of him. Seeing what he had done after leaving gave me understanding as to why he felt it pertinent that he leave this life behind him.