B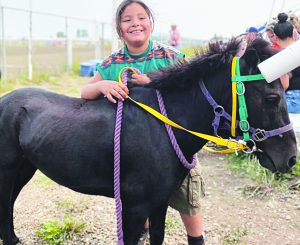 y the CUJ
"Horses make me feel happy," William Wapass says. "I have fun and feel cool when I ride them. I ride for my 'mosums' (grandpa's) and I'm never gonna stop riding."
Wapass, an enrolled Thunderchild First Nation member, is a 7-year-old mini relay racer with CTUIR ties.
He is the eldest son of Alicia Picard and Bretner Wapass. Maternal grandparents are the late Andre Picard Sr. of Lapwai, Idaho and Leanna Lewis of Pendleton.Maternal great grandmother is the late Etta Conner of Pendleton.Paternal grandparents are the late Billy Wapass Sr. of Thunderchild, Saskatchewan and Theresa Wapass of Saddle Lake, Alberta.
Wapass rides and holds for "Little Billy's Boys," a mini relay team from Thunderchild, Saskatchewan.
"I have been riding horses since I was two years old," he said. " I could saddle my pony by myself when I was four years old. This is my first year doing mini relay. My dad and I do it together; everything I know I learned from him. My dad holds for 'Billy's Boys' Indian relay team. I was taught to feed and water my own horses and to take good care of them. I hope to ride for 'Billy's Boys' when I'm bigger."
Wapass' relatives from across the region joined to encourage him with a shoutout in the Tribal newspaper.
"Hopefully they will have events for children his age in U.S. in the near future," they said. "That way we can see William ride at lightening speed."
Wapass is fundraising to support his passion for racing, selling T-shirts via his mother, Alicia Picard Wapassm at Paypal.me/aliciapicardwapass.
"In the comments section, please request size, Small through 3XL. $25.00 Canadian dollars each plus $10 shipping to U.S. All proceeds go to helping with travel and feed. "Hiyhiy", (Thank you), "Qayciyawyaw"!