By Casey Brown and Wil Phinney  of the CUJ
Oregon students haven't been sitting in desks in front of their teachers since March 12, but education hasn't stopped, it's just been from a distance.
Like everything COVID, social distancing came to Oregon schools on March 12 when Oregon Gov. Kate Brown virtually closed the state over the novel coronavirus pandemic. In mid-April schools were directed to begin "Distance Learning for All."
Instead of big busy buildings with bustling hallways and buzzers every 50 minutes, homes with kitchen-table desks, rambunctious brothers and sisters, and noisy pets have become the classrooms for students across the country.
Students are working from home computers and laptops on loan from schools in a variety of age-appropriate, multi-media communication and blended-learning strategies, not just digital/online platforms. In addition to teachers, parents and older siblings are the instructors. Young people are keeping up with algebra and science, and they are drawing cars and writing essays. They are learning about self-motivation, time management and how to deal with stress.
All of a sudden they have time to spend with their families and many are learning more about their culture.
The CUJ asked several young people and their parents what they were doing during the COVID-19 pandemic. The following is a sampling of their responses.
Avery Quaempts
Avery Quaempts, a sixth grader at Sunridge Middle School, finds math easiest to learn at home. Science is the most difficult because she misses in-class instruction.
"It's difficult because we don't have our teacher to explain in words," she said.
The information is in text form rather than a lecture, which is what she's used to. In mid-April, during her first week of distance learning, she was is using her own computer to log into Google Classroom, an online learning platform used by the Pendleton School District. Her dad, Justin, says that paper packets are an option, but are more appropriate for students that can't get internet access.
Justin, recovering from two back surgeries, has been to stay home with Avery, but he's looking forward to projects at Crow's Shadow Institute of the Arts.
Avery misses her friends, but she stays in touch on Snap Chat and FaceTime.
She also misses her softball, which has been a big part of her life.
"It feels devastating because I remember that we used to have a team bond. We'd get so excited to see each other at tournaments and create memories," she said.
But she isn't letting being away from school stop her from being active. She still conditions for softball and practices basketball skills, particularly dribbling to get her "handling down."
Her dad says they are adjusting and dealing with the ups and downs of the constant changes and uncertainly, while also staying active and positive.
"It's been kind of a state of uneasiness just because the overall sentiment in the world is not knowing what's going on now. Or in the future. That energy infiltrates no matter where you are. The past few weeks that's been overwhelming, rightfully so," he said.
Avery and Justin say they know what to do because they look to their ancestors.
"As a tribe, we've got to understand that that's what we've been doing for centuries is adapting. This is just a modern day iteration of that. If we trust what our ancestors told us for a long time I think we'll be okay," Justin said.
Ivory Herrera
Ivory Herrera is a junior at Nixyaawii Community School where her schedule includes anatomy, her favorite, plus Language Arts 3 and algebra 2. She sports a 3.8 grade point average.
Ivory is self-motivated, but it doesn't hurt that her father, Freddy Herrera, is a retired Marine MP who gives her marching orders.
"My dad makes sure I get it done," Ivory said.
She's online with Acellus at 7:30 each morning. She uses the school's Gmail or Remind message to communicate with teachers who "get back right away." In addition to her regular classes, Ivory is a reader. She likes to read books about Native America, but currently is working on 'Night Shift,' one of Steven King's thrillers. A basketball player for the Golden Eagles this year, Ivory said she misses her friends but keeps up with texts and facetime.
COVID-19 hasn't caused her much stress.
"I'm cool with it," she said.
Her father said the coronavirus has been "kind of a blessing in disguise" because it "gets down to what matters" and that may be learning outside the classroom.
He takes Ivory, an aspiring veterinarian, to the mountains to hunt and fish, to learn about and gather roots.
"I want her to learn our traditions and ceremonies, our way of life," her father said.
Ella Sams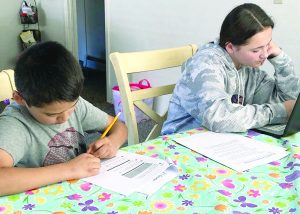 Ella Sams, a seventh grader at Sunridge Middle School, gets bored easily sitting at home all day. She knows she's staying home due to social distancing requirements for COVID-19, but she doesn't like to talk about the virus.
"We don't really talk about it because we want it off our minds," she said.
Her mom Nikki already works from home for a consulting company out of Maryland. She said that despite the official designation to move to distance learning the week of April 13, she's had her kids working on school work since Pendleton schools closed in March.
"She started pretty much when they left school. I wanted them to stay on top of things, so we got in touch with Janet Maddern," Nikki said.
Janet Maddern is the Indian Education Coordinator at Sunridge, and she has been using two programs from her home for a couple of years. She has experience with distance learning.
"It has been a bit easier for me, since I have had Acellus classes put into place for the past two years," she said.
"I am able to keep in contact with the kiddos either through e-mail or calling the parents," Maddern said. "I have given all parents my e-mail address and phone number, just in case the kids need help."
She's also come up with an interesting way to help students who seem to struggle with the same assignments.
"It seems that the math part has been difficult for many of the kiddos and the parents, so sometimes I will post the problem on Facebook, so all can see how to work it out together," she said.
To get her assignments, Ella logs on to her student e-mail and turns in her work on Google Classroom. She also uses i-Ready, an online learning program, for math and reading.For her physical education (P.E.) class, she keeps a log that she turns in to a teacher. She's been running and working on softball skills with her dad, Ryan Sams.
"I have these softball exercises, so I put down hitting, throwing, and softball workouts like sit-ups, pushups, crunches," she said.
Ella's brother Quincy is in second grade. Mom said he's been having the hardest time adapting to a new routine.
"They know they are all in the same boat," Nikki said. "He's a boy, so I feel that he's got all this extra energy. He's pretty social. I think out of all of my kids, he's had the toughest time adjusting."
It's been hard for them to "miss going to school, not see any family, not going anywhere."
Ella's youngest sibling, Sarah, goes to Cay-Uma-Wa Head Start on the Umatilla Indian Reservation, and her two oldest brothers, Greyson and Dakota, go to Pendleton High School.
Ella, 13, shares a birthday with her younger sister Sarah, 5, and they celebrated birthdays in quarantine this year.
"It's tough to celebrate in quarantine because they are used to celebrating with their whole family. That was a tough one for Ella," Nikki said.
When she can go back to school, she's most looking forward to one thing: her friends.
"Getting out of the house. It gets boring being stuck with your family for so long without going someplace," she said.
In the meantime, she'll continue focusing on schoolwork, including her favorite class, which is history because her teacher is "chilled back." He doesn't overwhelm students with too much work in the Google Classroom, Ella said.
"It's a lot. We have five kids at home," Nikki said. "It's a big change because every day is a different day."
Lindsey Littlesky Pasena
Lindsey Littlesky Pasena is a sophomore at Pendleton High School where she excels academically and athletically. She is the Chair of the Youth Council for the Confederated Tribes of the Umatilla Indian Reservation.
She said being away from school was "making everything else important" and giving her time to do things she didn't think she had time for before.
"I didn't have time for family, I didn't have time to draw, I didn't have time to engage in my culture. Now I have time to try new things," Lindsey said.
In addition to being a student, Lindsey also serves as a teacher for her brother Kyman, 10, and sister, Brees, 9. Her mom is a teacher at Nixyaawii Community School but isn't familiar with online instruction so Lindsey is helping her as well.
She continues to take Spanish via video and honors biology. She's writing persuasive essay and dialogue in English and using Acellus for math and world history.
"It's hard to focus when the focus is on everything in the world," Lindsey said, adding that her mother has the news on "all day."
"Our world literally changed in a week span," Lindsey said. "This is the new normal and we have to make it what we can. It's up to you to motivate yourself and stay active."
Some positive things may come of COVID-19, Lindsey said. In fact, the earth may be healing itself.
"The animals are returning. They may be on the streets, but they're back. The pollution is gone; traffic is gone. It's sad to say we've had to sacrifice lives to fix what other people have done to the world."
Serenity Antelope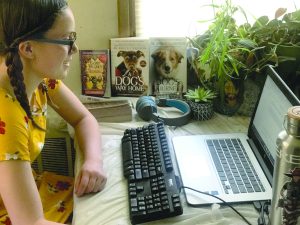 Serenity Antelope is a seventh grader at Sunridge Middle School. She said she likes doing schoolwork at home.
"It's been fun because I can do my work at my own pace. I like working at my own pace," she said. "I can still get help from my teachers if I e-mail them. We do this thing called Google Meets where we video chat with our teachers," she said.
Her uncle, David Filkins, helps her with her schoolwork.
"I bother my Uncle Bubba a lot," she said. "It helps me get my schoolwork done."
Like most students, Serenity misses her normal routine.
"I miss school because I like to interact with the teachers. It's kind of weird not seeing their faces. I miss being social. It's hard to keep my distance," she said.
However, she's been staying in touch with her family via FaceTime, a video chat program available on iPhone and iPads. She says that math her most difficult subject.
"It's hard because I can't ask questions. When I'm face-to-face with my teachers I know what to ask. When I'm typing, it is more confusing to ask questions. I have to go to all these apps and find the stuff that he's posting for me. I'd rather just get my packet that we usually do," she said.
She's been working on improving her math skills with a program called i-Ready, which is part of her Individual Improvement Plan (IEP). When she completed the placement test, she tested into a third grade math level, but has already improved two grade levels this year. Her P.E. class is her favorite to do from home because she counts dog walks, bike rides, and mowing her lawn. Her Uncle Bubba helped her by setting up a spreadsheet to track her physical activity.
"She really likes mowing the lawn," he said, which stands out to him because most kids don't like that chore.
While spending more time at home, she's been learning to cook by making pasta, breakfast burritos, and eggs, bacon, and toast. And her uncle says that's been nice to have those tasks taken off his plate.
"For somebody like her who is special needs and has her IEP, for her to have that drastic of a change, it's been really tough, but she's done amazing. She's really stepped up being a teammate for me at the house with the cooking and cleaning. The little things that it takes to get the house going, especially since we are both here 24/7," he said.
Staying in touch with her friends isn't done in the typical way that most teenagers stay in touch with their friends.
"It is tough to go from school every day where she has access to her friends to only living with Uncle," he said. We do limit her online access. She doesn't have those apps, TikTok, Snapchat. It's hard to monitor those apps 24/7. It's easier to not allow them at all."
"Serenity gets why I do that. If she's a teenager and can get it, then adults can too," he said. "If we are going to talk about Missing and Murdered Indigenous Women around here like we do, we should talk about that more. Especially since we live right by the highway that will take you clear to Portland and Salt Lake City in a matter of hours. That's the reality of it."
Serenity has, however, started something new that she and her uncle are proud of: reading.
"She's never been much of a reader. In the short time that this has gone on, she's read three and a half books. They are big books too – 'A Dog's Journey,' 'A Dog's Way Home,' and then 'Red Wall.'
"She's really stepped up a lot."
Keyen Singer
Keyen Singer, a sophomore at Nixyaawii Community School, was learning on Khan Academy, an online non-profit tutoring platform, before the state required schools to start distance learning. Keyen and her sister, Diamond, a NCS freshman, and her 13-year-old brother, Tony, live with their mom, Cara, who is taking classes at Blue Mountain Community College. It's a houseful of students. Keyen is now learning on Google Classroom and receiving gmail assignments from her NCS teachers.
"Mom makes us get up in the morning at 8 and we're online at 9," Keyen said. "I'm self-motivated and want to learn, but you have to push yourself to do this."
She started running with her sister; they are both on the NCS cross country team. She also lifts weights and does Zumba with her mother, who has prediabetes.
"You stare at the computer for three hours and it's easy to eat all the time so we workout, walk up to TCI (Tamastslikt Cultural Institute). I want to make sure my brother stays healthy so he works out too. We walk as a family, us four and two pets (Kiwi, the cat, who walks off a leash, and Kelosh, the dog, who walks on a leash)."
The home classroom isn't as efficient or effective as the one in school with a teacher you can ask questions, but Keyen said she's learning and she doesn't mind sharing her instruction time with her brother and sister.
Keyen said her mom sometimes gets irritated with her for helping Tony instead of doing her own school work.
"But then Mom helps Tony and she falls behind on her BMCC work," Keyen said. "It's frustrating. We're a big family and we all have to come together and work together. Now we know, it's hard to be a teacher."
Weptas Brockie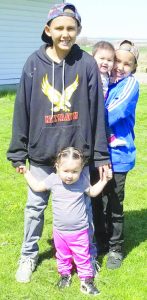 Weptas Brockie, a seventh grader at Sunridge Middle School, wakes up at about 7:30 a.m. and starts his schoolwork at 8.
"We do our schoolwork in the morning and then do whatever we want in the afternoon," Weptas said. "Sometimes I play with the ball with my sister [Swatas]. She can't quite catch yet, but she can throw."
He's at home with his mom, Midnite Koski, dad, Joshua Spencer, and his siblings Demetri, Marilyn, Swatas, and Joshua. He said he prefers learning at home.
"Just being at home and not being crazy and hectic at school because most of my classmates talk a lot. It's hard to hear the teacher sometime," he said.
Like most of his classmates with internet access and a Chromebook or computer, he uses Google Classroom to turn in his assignments.
"I've been on a Chromebook doing a Google Classroom. It gives me a list of assignments every day, and I have to do my reading, and Khan Academy, and workouts for my PE classes."
He uses Khan Academy, a free online learning platform, for his math and English/Language Arts (ELA) classes.
He gets his exercise during free time with his family.
"I like going outside with my baby sisters and doing our family workout," he said. "Me, my mom, and my brother. We do a bunch of stuff like pushups, and sometimes we lift our weights at home and do 'bicycles,' running in place for 20 seconds, squats," Weptas said.
He said his favorite activity is lifting weights, and he sees these days as a good time to "get to spend time with family."
Midnite says she doesn't take the kids out when they leave the house and go grocery shopping. It's been part of their adjustment to the new changes. Getting her two boys, including Weptas, to focus on schoolwork was difficult at first, but she says it got better when they were told that they were staying home for the rest of the school year.
"It has been interesting trying to get them out of play mode and take it serious about doing their schoolwork," she said.
Things changed, Midnite said, when the boys realized their parents' expectations.
"They know for sure they aren't going back to school and they are getting used to their routine. Me and their father talking to them allowed them to take it more seriously," she said.
She's been at home with them full-time as well.
"It's really nice to have them home knowing they are safe."
Bryson Spino
Bryson Spino is a sophomore at Nixyaawii Community School where in addition to his regular class schedule he takes Umatilla as his language class. He's still able to learn his native language using a verbal audio recording program called Quizlet. He is using Acellus and Google Classroom, with assignments sent from NCS teachers, for other classes like biology, U.S. history, and math, etc. He misses weight lifting, but does exercise throughout the day.
He had started boxing at the Rec Center in Pendleton before the coronavirus showed up. Bryson, who has asthma and "heart problems," is stuck inside all day long. He gets to sit out on the porch once in a while.
"If I caught COVID I'd be pretty messed up," he said.
To relieve the stress of being cooped up, Bryson "mostly walk upstairs and look out the window for a couple of minutes to calm down."
Bryson spends time with his brother, Nolan Enright, a freshman at Nixyaawii, and his 17-year-old sister, Alexia Spino, and two dogs – a black Lab-German shorthair pointer mix and a Chesepeake Bay-chocolate Lab retriever – that are "also cooped up in the house."
"They are my only source of social life," he said.
Once COVID-19 is over Bryson plans to go for a walk.
"I'm bored with it," he said.
Rosie Blue Thunder
Rosie Blue Thunder is a sophomore at Pendleton High School. She's home now but still studying history, algebra and English on a laptop.
Classes like foods, weights and study skills aren't so easy on a computer.
Working at home isn't so bad, Rosie said. You watch a video and take a quiz. If you pass you move on to the next. At the end there's a test and you get a grade. Rosie, the daughter of Elizabeth Star and the granddaughter of Woodrow Star, is home with two brothers, Michael, 9, and Robert, 8, who both attend Washington Elementary. She helps them with online classes and with their afternoon school packets.
In her spare time, Rosie reads and watches Disney movies. She's reading the Hobbit right now.
When she's older she'll tell her kids about the time she was "stuck in her house because somebody ate some bats over in China."