By Wil Phinney of the CUJ
MISSION – Shane Rivera is resigning as head boys' basketball coach after compiling a record of 171 wins against 51 losses in eight seasons at Nixyaawii Community School (NCS).
Rivera took NCS to the Oregon Class 1A State Tournament five times, winning the title in the 2018-19 season. That year Rivera was Oregon Class 1A Coach of the Year, led his team to a 28-2 record, beating Trinity Lutheran in the championship game, 59-42. Golden Eagles' squads finished second in 2014-2015, third in 2015-2016, and third this year, 2019-2020.
"I don't know if I'm saying I'm done forever, but I'm taking a break," Rivera said. "If I ever have an opportunity down the road, who knows?"
Rivera's decision was based on family matters. His daughter, 5-year-old Barrett, requires lots of rest because of a rare neurological condition.
"It's been difficult for Drew (his wife) to come to games because Barrett needs to get to bed early," Shane said.
And his son, also named Shane, who finished a strong freshman season as an NCS post, is moving back to live with his mother in Toppenish. Coach Rivera wants to be able to watch his son play as he continues his high school career.
"That was his original plan, that he'd come here for his freshman year and then go back to Toppenish," Rivera said. "He's said he's for sure going back. If I continued coaching I'd never get to watch him play."
FIRST STATE TOURNAMENT
Rivera looks back fondly on his teams, particularly the first team he took to state in his third year at the helm in March of 2015.
"We'd been building to that point. We were 21-7 in 2013-14. We went down to Damascus Christian and won, but lost at Jordan Valley in the second round of substate," Rivera remembered.
The next year, Tyapo Farrow transferred from Pendleton High School and joined the quick foursome of Hunter Melton, Fredy Campos, Ira Ashley, Angel Corona, plus big Elija Bevis, who was a force with soft hands under the basket.
"We were an unknown and just happy to be there," Rivera said. "But we went on a run."
A crowd favorite at Baker City, Nixyaawii was beating a senior-dominated Country Christian after three quarters, but lost the title at the end. Hunter Melton was perhaps Rivera's favorite player because of his willingness to leave everything on the floor once the game began.
"Like most competitive kids, Hunter would test you. I could yell out and he'd be mad. He'd sit for a minute and get better. He'd listen," Rivera said.
Melton was a fan favorite because he had no fear, whether it was driving the lane through players sometimes a foot taller or throwing his body on the floor going after a loose ball.
"For a guy who averaged 10 points, he was first team all-state two years in a row. If we had won the tournament he would have been state player of the year," Rivera said.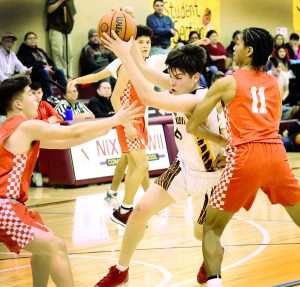 ALL-STARS
But each squad was different.
Over the years, six different players made state all-star squads a dozen times. Two players – Melton and Mick Schimmel – each made state first-teams twice. Others named to second team squads included Eljah Beavis, Ira Ashley, Fredy Campos and Tyason Burns.
"Talent doesn't always equal championships," Rivera said. "We were the most talented team in '15-16, the best team in the state and still ended up third. We were 27-2. We lost to Sherman, who we'd beat twice during the season. Our only other loss was to Stanfield, who finished high at the state 2A tournament."
A team that wasn't the most talented won the title. But it had the best leadership in seniors Deven Barkley and Dazon Sigo.
"Deven and Dazon showed a level of maturity and leadership that you really can't put a number on," Rivera said. "They showed up and set an example for the daily grind in practice. Not verbally, but physically they set an example. They were unselfish."
Rivera said, "There's no magic recipe to win championships, at least that I could figure out."
(NOT) SCREAMING AT THE REFS
He knows he was sometimes criticized for not showing more emotion on the bench during games. His quiet demeanor during tense moments had fans questioning his tactics while other coaches at the state tournament marveled at his calmness.
"As a player I was a little more vocal and I worried I'd be a screamer and yeller as a coach. It turned out to be opposite as a coach. The only technical were administrative (scorebook violations), not from screaming at refs."
Rivera said he was surprised by the need for patience and even more surprised that he was able to demonstrate it.
"When I coached that first group I rarely said anything during games," the coach said. "I did a lot of yelling and screaming during practice but in games they knew what they needed to do. I didn't need to yell. If I needed to we'd take a time out and reset things.
"That was the way to go with that group. This last group needed me to be more verbal, to stand up and be more verbal as the game was going on."
Rivera said each situation requires a different philosophy.
"I don't think either way is correct or wrong," he said. "It's whatever the kids need. It's not this is our offense or this is our defense, you're going to learn my way. You have to adapt to whatever you have. And that's one of things we've done. That first group we took to state we ran a 1-3-1 zone and pressed with a pick-and-roll offense. That's it. We didn't draw up plays for individuals and we rarely played man-to-man. This last group we played man-to-man and we didn't press along, and we mixed up the offense a lot."
Over the years, Rivera adapted to the personalities on the floor and "one way or another it was always right."
That in spite of the fact he didn't always have a full squad to work with. Academic ineligibility and injuries were exasperating.
"It was frustrating. Academic eligibility is a big deal as it should be but we did not have continuity," Rivera said. "We had to worry about that, but it comes with the territory. You want to work on X's and O's, but ineligibility throws a wrench in that. It is what it is and we dealt with it."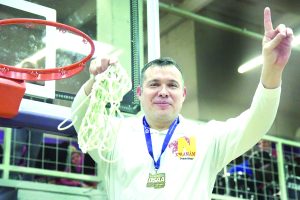 GOLDEN EAGLE SUPPORTERS
Rivera said he had a lot of people to thank, but he didn't have a list on a piece of paper so he feared he might leave someone out and apologized if he did.
Of course he acknowledged coaches he worked with over the years, including Aaron Noisey, the head coach he assisted in his first year at Nixyaawii in 2012. He recognized his assistants, which included Alan "Gum" Crawford, Aaron Ashley and Ken Mayfield.
He threw props to Andi Scott, Linda Sampson, and Keisha Ashley, all strong team boosters, plus NCS Principal Ryan Heinrich, NCS athletic director Lynette Minthorn, and Heinrich's administrative assistant Carrie Phinney.
He also thanked his family, specifically his wife, Drew, and his mother-in-law, Darcy Johnson, who – among other things –  came after school on Mondays to help athletes at study hall before Tuesday's grade checks.
His biggest appreciation came for Golden Eagles' fans.
"We had the best fans," he said, remembering specifically back to the 2013-2014 season when the team traveled to Damascus Christian in the first round of sub-state.
"It wasn't a huge gym, but our fans filled up more than half. They traveled with us and we appreciated our fans where we went. We had a great Booster Club, especially Linda and Andi. Those guys always had my back."
IT'S HARD TO SAY IT
Rivera said he's been fortunate to coach in a program like Nixyaawii Community School.
"I can't imagine coaching at a school where you didn't win," he said. "I suppose that happens a lot, but we've been fortunate. It has a lot to do with this community and its love for basketball. The boys play so much basketball – AAU teams and tournaments with coaches like Jeremy Barkley, Ryan Sams' squads, the Schimmel family… that's how all our teams are so successful. Parents develop how we become as good as we are, they start way before high school level. We're lucky to have that kind of support and passion from the community."
Rivera said he talks to other coaches who are envious of the NCS community.
"Once the season is over their kids are done. Our kids don't stop playing basketball once the season is over. They learn things we can't teach, they keep playing. Indian tournaments in Reno, Lapwai, and Las Vegas expose them to different styles."
But Rivera said coaching has reached the point where it was "more of a job than a passion."
"I still enjoy it. I like the competition and being around the kids. It's definitely rewarding, but it's a lot of work," he said.
Rivera said he's not worried about the NCS program or the upcoming teams.
"There are quite a few people qualified to take over, to keep the program running in the right direction," he said.
This summer, Shane and Drew, along with Barrett and younger sister Bradley, are moving into a new home they've built on 56th Street on the west side of the Umatilla Indian Reservation.
"I'm not looking to go anywhere, I'm not moving anywhere," Rivera said. "I have no interest in coaching at any other school. I've enjoyed Nixyaawii; that's where my heart is at, with Nixyaawii. It's hard to say, 'Yeah, I'm done.'"