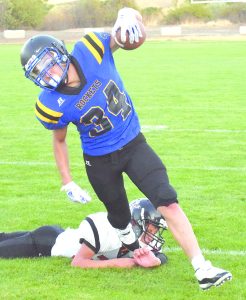 Tyasin Burns, a senior next year at Nixyaawii Community School, will play football with the Pendleton Buckaroos.
By Wil Phinney of the CUJ
PENDLETON – Pendleton High School Coach Eric Davis is excited about adding three seniors from Nixyaawii Community School (NCS), especially tough running-back Tyasin Burns, to the Buckaroo football roster this fall.
The Nixyaawii School Board in May approved a one-year co-op with Class 5A Pendleton after the Oregon School Activities Association (OSAA) denied its appeal to stay in a two-way cooperative with Class 1A Pilot Rock.
It will be a huge jump from 1A to 5A, and from 8-man to 11-man football, but Davis said he is hoping for a "seamless transition" as the NCS boys move from competition among the state's smallest schools up to schools with more than 1,300 students. (Pilot Rock-Nixyaawii's combined enrollment was about 150 compared to North Salem at 1,349 last year.)
In early June, Davis contacted NCS players he knew from last year and welcomed them to the Buck family.
"We're welcoming them with completely open arms to come in and be part of something special. I hope it's a great move for them because it's a great move for us," Davis said.
The Bucks will be "fairly young" this year. However, Pendleton is deep in some skilled positions.
"Throw Tyasin in and he's an instant threat for us. We'll make sure he gets the ball in his hands as much as possible," Davis said.
Last year Burns, the offensive work horse for Pilot Rock, was among the state's Class 1A rushing leaders. He also produced hundreds of yards receiving, and as a punt-and-kick returner.
This year, though, Burns won't have to carry a full load for the Bucks.
At 5-10 and 170 pounds, Burns will be sharing the offensive chores with three PHS returners – Zaanan Bane, a 6-1, 185-pound senior; Kyle Liscom, a 5-10, 180-pound junior; and Payton Lambert, a 5-10, 170-pound sophomore.
The Bucks will be developing a quarterback after losing Tanner Sweek to graduation. Right now senior Brogan Biggerstaff (6-0, 160) has the inside track but sophomore Jackson Davis, the coach's son, will be in the mix, too.
Pendleton lost its entire offensive line to graduation, so Davis is encouraged by the potential of NCS bigger boys like Magi Moses, 6-4, 270 pounds, and William Sigo, 5-10, 230 pounds, a pair of seniors.
Davis likes what he's seen in Moses and thinks he can be better once he learns more technique.
"I'm excited to see him get in some pads. You can't teach size," Davis said.
Defensively, the head coach thinks the Bucks will be as good as they've been in the last few years. The team will be led by middle linebacker Liscom, who led the state in tackles last year.
Davis sees Moses and Sigo adding depth to the defensive line.
He said Burns will see action as an outside corner because of his closing speed.
Other NCS players who saw action at Pilot Rock last year include Aaron Barkley and Dylan Abrahamson, and to a lesser extent Enoch Crane and Alyric Redcrane.
"We'll see where they fit into the program but it's going to be great for both schools," Davis said. "The ceiling is so high. I'm not sure of the number, but I think there will be five or six that can play at the higher level. The speed is different, but if you're an athlete and willing to be coached…"
The biggest difference between Class 1A and 5A, Davis said, is depth. A larger student body means a larger pool of athletes to choose from, which results in a higher number of quality players available to compete.
"It's a whole different game," Davis said. "We'll be playing teams with enrollments upwards of 1,300. Pendleton is a small 5A (enrollment 794). There's a big difference in the kids we play against. We're playing against D1 (Division 1 college) level kids. Hood River already has a kid signed to play at Oregon State."
But Davis is ready for a new year and he's not being bashful about his expectations in the Intermountain Conference.
"The conference title is the goal. With the development of a quarterback we could be in the quarters or semi-finals. The addition of the Nixyaawii kids adds more opportunity for us to be tough at the state level, not to just be okay in league," Davis said.
Davis was hopeful that workouts could begin this month and players could be in pads before August.
As of press time, Davis was "coaching by phone." He'd ordered helmets and was eager to meet and talk with his new players "face to face."
The Nixyaawii School Board explored other options after the OSAA denied their appeal to remain in the cooperative with Pilot Rock. Combining with other small schools in the area would have forced a move into a higher classification. For example, Weston-McEwen would have had to climb from Class 2A tp 3A and school officials did not want to do that.