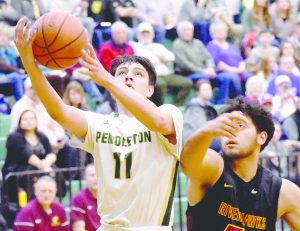 Dakota Sams drives to the basket for Pendleton Buckaroos last year.
Grayson, Ryan and Dakota Sams stand in the Nixyaawii Community School gym.
By Wil Phinney of the CUJ
Ryan Sams, Nixyaawii Community School's first basketball coach, is returning to lead the Golden Eagles after 14 years of coaching at Pendleton High School, and he's bringing his two sons with him.
Sams planted the Nixyaawii hoop seeds starting in 2003. It began to grow with Coach Aaron Noisey's nurturing from 2007-2013. And the program has flourished over the last seven years, winning a state title under Coach Shane Rivera, who recently resigned.
With a senior-heavy squad that will include his Class 5A all-star son Dakota, Coach Sams is expecting nothing less than another state championship.
"If we don't win a state title it might be a good season, but it won't be good enough," Sams said. "I told the interview panel I had unfinished business. One of the reasons I came back is to make a run at state."
Dakota Sams, who has been an Intermountain Conference all-star for the last three seasons as a PHS Buckaroo, brings a wealth of big-school basketball confidence and experience to the Eagles' Nest. Last year Sams, a 6-2 shooting/point guard, led the Class 5A IMC in scoring with a 23-point average, adding six assists and five rebounds per game. He averaged 18 points a game throughout the full season and received all-state honorable mention. He broke his father's PHS record last year when he made nine three-pointers in a game.
Dakota will join seven other returning upper classmen, including Class 1A all-state guard Tyasin Burns, plus Moses Moses, Magi Moses, William Sigo, Reuben Bronson, Luis Ortega, and Jace Ashley who, in the last three years, have been part of NCS teams that won a state title and a third-place trophy.
The Golden Eagles' squad that was third at Baker City in March lost one senior – all-state forward Mick Schimmel, plus up-and-coming freshman post Shane Rivera, who will play for Toppenish. Coach Shane Rivera resigned so he could watch his son play.
In addition to the seniors, the squad from last year includes Aaron Barkley and Dylan Abrahamson, who both saw lots of varsity minutes, and the other Sams boy – junior Grayson, who led Pendleton's junior varsity and suited up for varsity as a sophomore.
That roster includes just the boys expected to return. It doesn't account for any incoming freshmen or anyone who might transfer in from another school. And it leaves open-ended any questions about one or two players who may or may not return to Nixyaawii in the fall.
Coach Sams said he will expect much from his players, many of whom he has coached since they were in grade school.
"I've coached some of these kids since third grade. They know what to expect from me as a coach and they know I play to win," Sams said.
And although winning may be highest on his priority list, it isn't the only thing driving Sams.
After all, he does work for Tribal Court. His official title is head of "Juvenile Services Probation/Truancy," but he calls himself the juvenile delinquency coordinator.
Being in that authoritative position gives Sams a unique perspective as a coach.
"On my job sometimes they're not the kids I want to see," he said. "I see problems and I see issues, but they're still kids."
Year after year, Sams said, teams have problems keeping players eligible and it mostly involves school attendance.
"It's the same problems we had 17 years ago and I may be in a position now to help change that," Sams said. "I want to make kids accountable, to help them graduate, to do their best in school to be student-athletes."
Toward improving academic eligibility, Sams is hoping to change practice schedules so boys and girls can switch back and forth – one week going early and the next week going late – so that tutoring from Blue Mountain Community College students is available to all athletes.
"The boys practiced late and didn't have the opportunity for tutoring last year," Sams said. "Some kids need tutoring. I will know their grades and they will know when it affects their basketball."
(The Nixyaawii School Board recently changed the extra-curricular eligibility standard from a grade of D to a C. Now students must maintain a 2.0 GPA to stay eligible for sports activities, something Sams supports.)
Nixyaawii led the state in scoring last year with an average of almost 74 points per game. Coach Sams expects that number to increase in the 2020-2021 season.
The Golden Eagles will certainly have the firepower to produce those points, but getting it done in Nixyaawii style will be the test.
It will require two of the most prolific scorers and dynamic passers – Dakota Sams and Tyasin Burns – to share the ball with other NCS players that on any given night can put up 20 as well.
"That's my job as coach to get all those weapons to play together and share the ball," Sams said. "But we're also going to concentrate on defense because defense wins championships. We're going to figure out how to stop people."
Coach Sams said he will do most of his talking and yelling in practice, but don't expect him to be as laid back as Coach Rivera was on the sidelines.
"I want the kids to play hard, to play within themselves and to play to win. I'll probably yell at my own boys more than at the others but nobody is safeguarded. I want it done right," he said.
t was a family decision that brought Ryan, Dakota and Grayson Sams to Nixyaawii. The other members of the family – Sams' wife Nikki and daughters Ella and Sara – also had a say.
"Dakota had one last year around his friends," Ryan said, "and the history of being a Buckaroo was the toughest part. They grew up with me being a coach at Pendleton. They were Buckaroos."
It was a difficult decision for the senior, who would have finished his fourth year and high school career at PHS.
"I'm leaving all my friends, all my connections with teachers and staff," Dakota said.
Dakota said playing for his dad will be nothing new.
"I've been doing that forever," he said. "He's always told me what I do wrong."
As for playing at NCS, "I grew up with all these guys playing with them or against them. I'm excited about coming here. There's been a lot of winning going on out here. All these guys like to run so I should fit right in."
For Grayson, it was all about academics.
He's a smart kid taking AP English, chemistry and Algebra II. At Nixyaawii, he'll take dual credit courses through Blue Mountain Community College.
"Math was what upset me mostly," Grayson said, "but being able to take the classes through BMCC helped me make the decision."
Coach Sams said the family wanted to stay together.
"Grayson wanted to finish with his brother. It was all of us here or we were going to stay at Pendleton," he said.
The new head coach said he was enticed to come back to Nixyaawii because of what the program has become.
"The fan support is amazing. We've got a new gym with even more fans coming. We're following a tradition now and no doubt we'll be ranked in the top five, if not number one," Sams said. "Everybody in the state knows Nixyaawii."