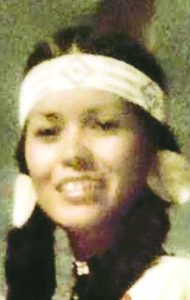 Verna Dee 'Duck' Conner
March 5, 1959 — June 19, 2020
Born in Salem, Oregon, Verna Dee was named after her doctor, Dr. Vernon D. Casterline.
Verna graduated from Madras High in 1977, excelled at tennis and went to districts in girls' doubles.
She annually made the Pendleton Round-Up, camping in the Indian Village with her family. In 1978 she placed first in the American Indian Beauty Contest. A consistent participant in the Happy Canyon Show as the "Indian Bride," she was married many times and was the last to enter on the canoe. As a young Indian girl, she also played an extra on an episode of the late 1970s TV series "How the West Was Won" with James Arness.
A student of Chemeketa Community College in Salem, Oregon, from 1979-1981, she studied early childhood education, most proud of an A+ she earned on a research paper where her case study was her nephew.
Verna earned the nickname "Momma Duck" from her late brother James, who keenly observed her early on, constantly with little nieces and nephews following around like "little ducklings." She was a passionate University of Oregon Ducks sports fan where her late father Cecil graduated, and other family members since. Hence, the name "Duck" endured.
Throughout her life she loved golf, playing in many tournaments throughout the region. She was also the pro shop assistant at Kah-nee-ta Resort Golf Course and also the Nine Peaks Golf Course in Madras, Oregon.
She had an infectious smile, unforgettable laugh, and love for life and family. Her kind disposition and support of her nieces and nephews ambitions will cause us all to dearly miss Duck.
Survived by her sisters Cheryl J. Conner, Jody Bear, Elaine Miller, Kit Gonsalez, Carla Greene, Carol Conner and Kris Conner, along with brothers Matthew Conner and Thomas Conner, and numerous cousins, nieces and nephews too numerous to list.
Preceding her in death were nieces Elena Gonsalez, nephew Elijah Suppah; brothers John Macy Conner and James C. Conner; parents Gilbert Cecil Conner and Virginia Wilkinson-Conner; aunts Janie Pond, Rosaline Harris, Antoinette Williams, Leah Conner, Etta Conner, Pauline Stanger and Lenores Meanus; uncles Duane Conner, Norman Conner, and Earl "Taz" Conner; paternal grandparents Elsie and Gilbert Edward Conner; and maternal grandparents Cyrus Wilkinson and Margaret White.
Viewing/services were at Burns Mortuary in Pendleton, Oregon, on June 22 with burial at Olney Cemetery on June 23, 2020.