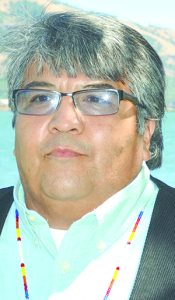 Patrick Louis Luke
Dec. 7, 1962 – June 22, 2020
WHITE SWAN, Wash. – Patrick Louis Luke, "Yetatamanisht," passed away at his home in White Swan, Wash., on June 22, 2020. He was born on December 7, 1962 in Pendleton to Faydeena (Thompson) and Marcus Luke. He was raised in Portland, on the Columbia River, and at Thornhollow and Mission on the Umatilla Indian Reservation.
Patrick was an enrolled member of the Yakama Nation and was part of the Cayuse, Walla Walla and Umatilla Tribes. He graduated from Weston-McEwen High School in Athena and joined the United States Marine Corps. After boot camp at Camp Pendleton (San Diego, CA) he was stationed at Whidbey Island, Wash., until he was honorably discharged.
He graduated from Blue Mountain Community College and was a Ford Family Scholar at Oregon State University. He graduated from OSU with a degree in Fisheries/Wildlife. He was working toward a Master's Degree from Evergreen State College while living in White Swan.
Patrick was most proud of his heritage and keeping traditions alive. His biggest passion and where he felt most at home was the Columbia River. For generations, fishing season was a family affair on the Big River. Patrick knew the river like the back of his hand from Cascade Locks to McNary. He was a gillnet- and dip-net fisherman and harvested lamprey at Willamette Falls since a young teen.
Patrick was a resource for the tribes and a consultant on many projects, including national and local TV programs. He was instrumental in the Pacific Lamprey recovery project for the Yakama Tribe.
Patrick spent many years fishing in Alaska at Dutch Harbor and surrounding Aleutian Islands and along the Ketchikan coast. He fished for salmon in the style of Deadliest Catch; it was a dangerous and exciting job for a young Patrick. His time in the Marine Corps reinforced his incredible work ethic that carried through to all aspects of his life. He was known as a hard-ass and could take on anything or anyone. He always made time to teach and share his knowledge with those who sought him out.
Patrick had many jobs and lived in many places throughout his life: Pendleton, Seattle, Goldendale, and Fort Duchesne, Utah to name a few. He was a gregarious and outgoing person. He had many friends and enjoyed catching up with all his relatives. He would do anything to help his friends/family in need. He enjoyed traveling to pow wows and dancing in the arena, wearing regalia he created and regalia handed down.
Patrick was a member of several longhouses: Umatilla, Satus, Celilo, and White Swan. He drummed and was always learning new songs and strove to carry on our ways. He encouraged everyone to be better, work hard and learn new things.
He is survived by his mother, Faydeena Thompson Luke, Thornhollow, Ore.; sister, Juliana R. Luke, Thornhollow, Ore.; brother, Marcus L. Luke II (Carrie) Pendleton, Ore.; sons Antoine "Tony" Skahan, Portland, Ore.; Cody "Red" Hare, Pendleton, Ore.; nephews M. Aaron Luke, and Nicholas Perry Luke, Pendleton, Ore.; and many relatives in Mission and the Yakama Nation. He is preceded in death by father, Marcus L. Luke and brother Perry S. Luke, his maternal grandparents Joe and Rosa (Davis) Thompson, paternal grandparents Nora Luke Charley and Robert Luke.
Patrick was buried at Dallesport, near the heart of the Columbia River, to rest alongside his extended family and other big river fisherman, in the place he loved. He is missed dearly. He is gone too soon. Due to the COVID-19 pandemic the funeral service was shortened and limited to immediate family. The family plans to host a dinner as soon as gatherings are allowed.
Semper Fi!