CINCINNATI – Tribal member Milan Schimmel quickly earned a starting role for the University of Cincinnati women's basketball team.
The Bearcats (1-0) edged Northern Kentucky 73-67 in overtime to earn their first win of the season.
Schimmel scored 8 points (2 for 5 from 3-point range), grabbed 2 rebound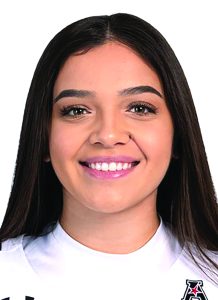 s, and had 4 turnovers. The team relied heavily on Ilmar'l Thomas, who scored 34 points in the win.
Cincinnati was set to play a familiar foe of Schimmel — Louisville — on Nov. 28, but the game was canceled. Schimmel's sisters Shoni and Jude played for the Cardinals before playing professionally.
In late October, the Bearcats released a video interviewing and showing practice highlights of Schimmel.
"I enjoy seeing the court, shooting the ball, hustling and being competitive," Schimmel said in the episode, titled "Fresh Faces Presented by Kroger."
Schimmel stated, "I've always been around basketball all my life. My older siblings, my parents, we would always be in the gym. I was basically raised around basketball, am familiar with the game and I love it."
Schimmel transferred to the Bearcats program after averaging 14.5 points, 7.2 rebounds, 4.1 assists and 2.5 steals per game with Eastern Florida State College last season.
"Milan is a versatile guard that has the ability to play multiple positions in our system," Cincinnati coach Michelle Clark-Heard said. "She is able to score in a variety of ways and brings great experience to our teams as we continue to build a championship culture."
teams as we continue to build a championship culture."
Clark-Heard was an assistant at Louisville from 2007-2012, and played a role in the recruitment of Milan's sisters, Shoni and Jude Schimmel.
The video can be seen at http://www.GoBearcats.com.
Next up, the Bearcats face Florida (Dec. 5), Xavier (Dec. 10), Central Michigan (Dec. 12), Houston (Dec. 16), East Carolina (Dec. 19) and USF (Dec. 22).