Wilsonville business owner has CTUIR roots
By Cary Rosenbaum of the CUJ
CTUIR member Janet Singh stumbled into creating an authentic Tribal facemask line.
When the COVID-19 virus emerged in the United States early last year — and masks were suggested and eventually mandated — Singh rushed to her sewing machine.
"At first, I was making masks for my immediate family members," said Singh. "Soon thereafter, I received many compliments from relatives and random people that they began to place orders."
Her company, a family-operated business, is called Hitsiyu Sewing Services.
"We were created from the desire of embracing your own individuality," she said. "Each design on every product is sure to spark the interest of anyone, whether it is a Native American design or their favorite sports team."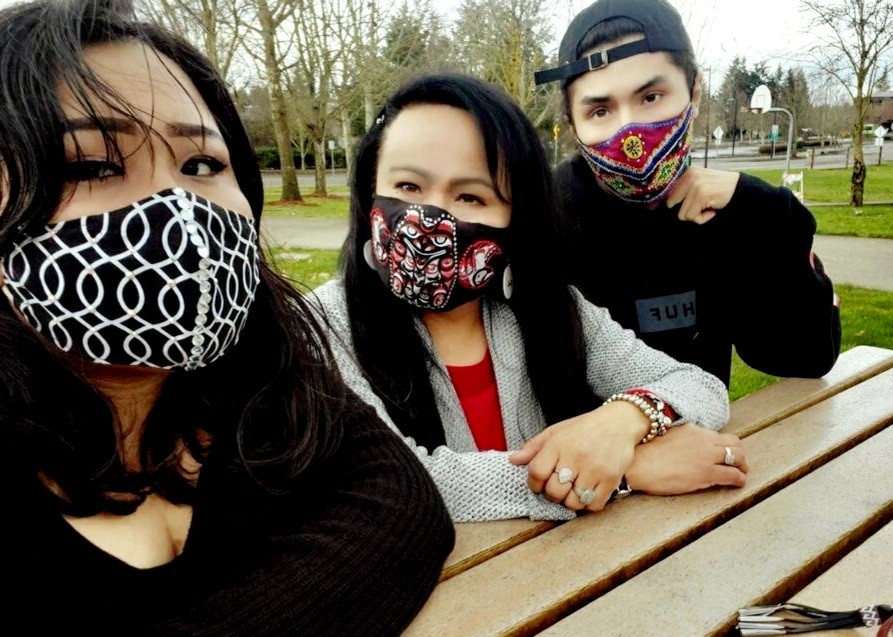 Many of her masks are worn locally around the CTUIR.
"I designed these masks because I felt the need to express my appreciation of my Native American heritage — as well as where I came from," she said.
Customers, Singh said, typically are looking for a mask to compliment an outfit.
She soon found herself needing the business, as she was laid off.
"(Mask-making) impacted my life dramatically this past year," she said. "Having been laid off from my job, I was faced with many challenges and stress. 'How do I cope with this?' I asked myself.
"I started at my sewing machine and said out loud to myself, 'Well, I'm going to put you to good use and focus on sewing creative face masks.'"
Early on, masks were in limited supply. The ones that were attainable were also limited in style, Singh thought.
"As I witnessed so many unhappy people wearing face masks, or those who were reluctant to even wear one, I decided to add a little more color and sparkle to their world," she said.
With Native Americans having the highest mortality rate in the United States, Singh said it's important to mask up.
"As a tribal member, it is important to maintain the health and safety to those around you," she said. "All and all, this helps the tribal community by making them more aware of this pandemic."
Singh's children, Amy-Jo and Deric Johnson, are part of the company.
"By running this family-owned business, it teaches my children not to be afraid to leap after their own personal goals and strive for something they've always yearned for," she said. "Just remember: If you have a dream, leap for it and make it happen."
Singh's masks are available locally and her website will launch soon at http://www.hitsiyusewingservices.com.