PENDLETON – The accolades keep coming in for CTUIR member Tyasin Burns, a football player for
Pendleton High School.
Burns was selected to the 5A/6A All-Star game called the Les Schwab Bowl July 3rd in Hillsboro.
The CTUIR member was unanimously named to the 5A-Special District 1 First Team as a safety. He also earned Second Team honors as a running back.
His coach, Erik Davis, believed Burns was a first-team running back as well, but that he lacked exposure coming from Nixyaawii Community School to Pendleton.
The game features graduating seniors, with each team selecting 37 players. The selection process is coordinated by the Oregon Athletic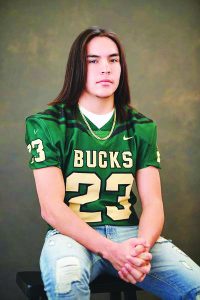 Coaches Association.