By Cary Rosenbaum of the CUJ
PENDLETON – Light, cameras (if you're a journalist, photographer or spectator), action. After a year without the Pendleton Round-Up, the fun continued — with a level of caution in mid-September.
Culture and history were on display throughout the four-day event. And while some declined to attend due to the growing risk of continuing the current COVID-19 surge, hundreds of Native Americans from area Tribes did. Some Board of Trustees were in active participation, just days after cautioning members to attend safely. The polarizing topic of attending on the onset of a pandemic-high two Tribal deaths in September saw some leaders adamantly oppose it occurring altogether.
Nonetheless, the 111th Round-Up came. And there, the CTUIR is the marquee Tribe. The history, the songs, the dancing, the competitions, the parade, the food, and the regalia were present. Masks, social distancing and precautionary measures were there as well — to a certain degree.
Throughout this edition of the CUJ, we will be highlighting several storylines from a Round-Up to remember.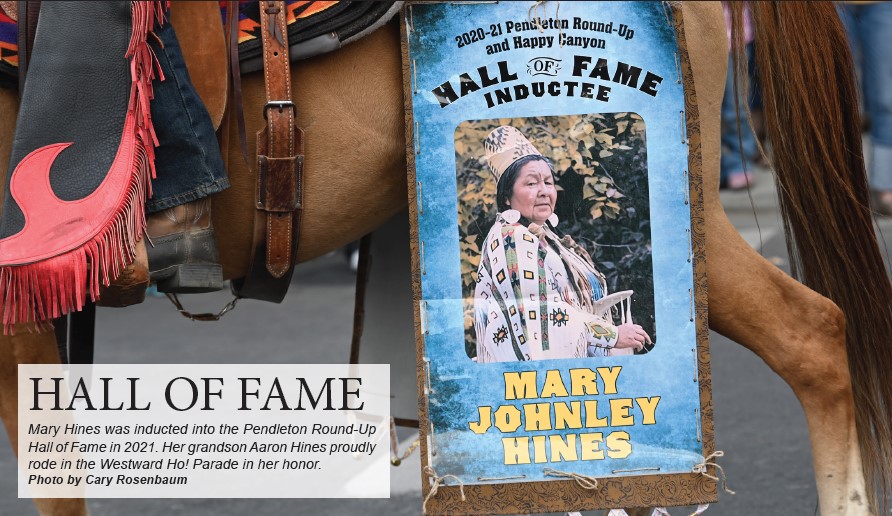 Mary Hines inducted into PRU Hall of Fame
PENDLETON – Nearly a year passed since it was announced Mary Johnley Hines would be inducted into the Pendleton Round-Up Hall of Fame.
She was a volunteer for Pendleton Round-Up and Happy Canyon, as well as a chaperone for the Happy Canyon Royalty in the 1970s.
"Hines attended every Round-Up from birth in 1911 until her death in 1989," the Round-Up Hall of Fame wrote for her induction. "She pulled a travois in the Westward Ho! Parade for many years."
The Hall of Fame added Hines "frequently loaned her regalia to Happy Canyon Princesses and members of the all-Indian Round-Up Court of the 1950s" and "assisted with the Junior American Indian Beauty Pageant."
Hines' grandson — CTUIR member Aaron Hines — rode in the Westward Ho! Parade with a photo of her attached to the back of his horse.
"It was an honor to ride on behalf of my grandmother this year," he said. "She had participated and volunteered for several years in different capacities.
"It was indeed a special year for our family and it was a huge honor to have my grandma Mary inducted into the Pendleton Round-Up and Happy Canyon Hall of Fame."
The Round Up Hall of Fame said Hines will "long be remembered for her traditional Friday Round-Up dinner in the Indian Village."
Other inductees included former saddle bronc champion Butch Knowles, volunteer Jack Shaw, and Badger, a quarter horse gelding that had a long history carrying Round-Up officials.
The Happy Canyon Hall of Fame was founded in 1969, and each year the Board of Directors select men, women and, occasionally, livestock to be inducted.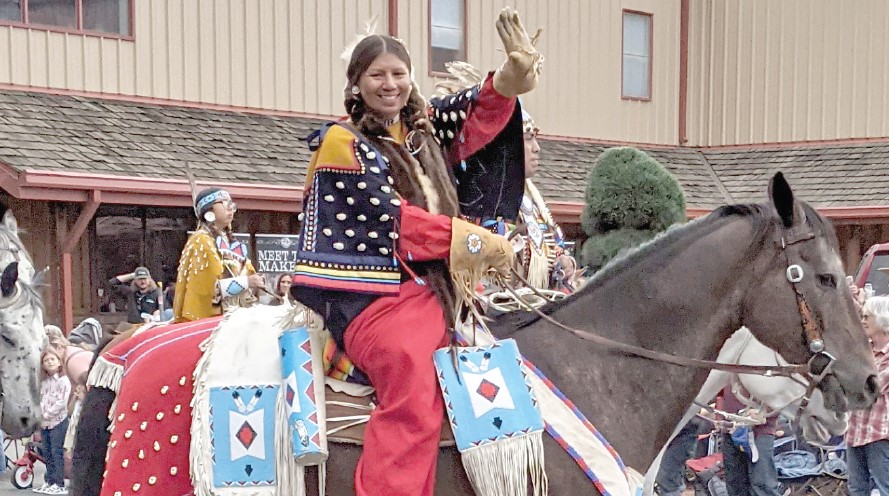 Ashleigh Wolf wins Westward Ho! Parade's best dressed rider award
PENDLETON – CTUIR member Ashleigh Wolf was crowned the best dressed participant in the Westward Ho! Parade during the 2021 Pendleton Round-Up.
To her, it was a shock.
"I never even thought about winning anything," she said. "I'm grateful that I had the opportunity to be in the parade. Getting up early to get our princess and horse off, then get myself ready was so humbling. Made me feel good about my decision to come (to Round-Up)."
Wolf received a Pendleton blanket for winning, which was sponsored by Oregon State University. The award was announced Friday in the Arena, but Wolf was unable to attend because she was also a member of Happy Canyon Princess Clarise Huesties' horse crew.
"Like the wonderful auntie she is, her niece was the priority," her sister-in-law Althea Wolf said.
Ashleigh's dress was designed by Jacy Alexander, who gave the outfit a Marine Corps theme.
Jennifer Mesteth, Wolf's mother, also helped with pieces of her regalia.
The horse she rode is ZZ, which belongs to her brother Jeremy Wolf, the Board of Trustees Vice Chair. The horse regalia also belonged to the Wolf family.
Ashleigh, a Blue Mountain Community College graduate and Oregon State University student, noted her family's support was amazing. She was a 2001 Happy Canyon Princess.
Her sister-in-law, Althea, says she is "a wonderful aunt with the most cheerful disposition and encourages her nieces and nephews that accountability starts with themselves, and to treat others how you want to be treated even if others are not reciprocal in that treatment."
"Our family is so proud of Ashleigh and the amazing woman she has become and will continue to be."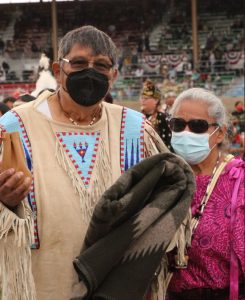 Tom & Diane Pierre named Oldest Indian Couple at Round-Up in 2021
PENDLETON – Age is an honor at Pendleton Round-Up — but not necessarily a singular one.
The Oldest Indian Couple is one to celebrate. This year, that award went to Tom and Diane Pierre.
"They said I do 50 years ago, and they still do," family members said. "It's been a great adventure together (for them)."
Tom wore a beaded war shirt shirt borrowed from Sally Kosey, the Board of Trustees' Secretary.
The couple met long ago when Diane was hiking to Mission from Hal's Hamburgers. Tom offered Diane and her sister a ride and they sat next to each other "and the rest is history," family members said.
The Pierres have four children, 15 grandchildren, two great-grandchildren (including one on the way in 2022).
Both are enrolled CTUIR members. Tom's mother was Lita Wannassay and father was Pete Pierre from the Kootenai Tribe in Montana. His maternal grandmother was CTUIR member Marcella Elizabeth Chapman and grandfather was Yakama Nation member Lloyd Wannassay.
Diane's mother was Kathleen Wilson, an enrolledCTUIR member, and father was Leanard Dave, Sr. from the Yakama Nation. Her maternal grandparents were Louise and Lowell Wilson and paternal grandparents were Harry Dave and Sarah Lilly. Maternal great-grandparents were Big Jim and Atana Abraham and paternal great-grandparents were Charley Wilson and Maggie Pambrun.

Two-year Happy Canyon Princess tenure comes to an end for Rivera, Huesties
PENDLETON – It's been two years since Happy Canyon announced
new royalty due to the COVID-19 pandemic. Applications were due in October, marking the end of the run for Princesses Mary Rivera and Clarise Huesties (above left and above right, respectively).
Apply today," Happy Canyon wrote on Facebook. "We're in search
of two Happy Canyon Princesses. … #OnWithTheShow."
Rivera and Huesties set a high mark with their tenures, as their social media shares garnered hundreds of likes and shares as they represented Happy Canyon — sometimes across the country.
Part of their duties are to serve as ambassadors for the Happy Canyon night show during Pendleton Round-Up, Oregon's official outdoor night pageant.
Huesties, a CTUIR member, graduated from Weston-McEwen High School in 2015, said becoming a Happy Canyon Princess "means I get to represent my family and our history, our people and the Happy Canyon the best way I can."
Rivera, an enrolled member of the Little Shell Tribe of Chippewa Indians in Montana, said it was a dream of hers to become a Happy Canyon Princess since she was a very young girl.