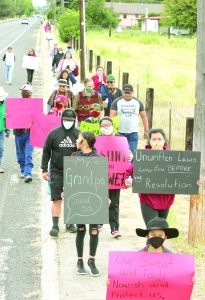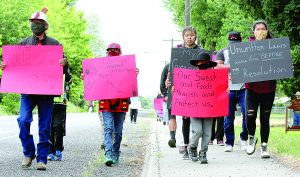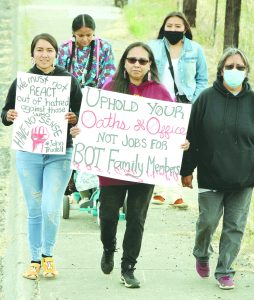 By Wil Phinney of the CUJ
MISSION – Toby Patrick says he has "no regrets" about hosting a feast in April that led to citations for perhaps as many as 17 adults who allegedly violated a COVID-19 order restricting social gatherings to no more than 10 people.
Those who were cited by Umatilla Tribal Police will be scheduled for telephonic hearings in Tribal Court later this month.
Citations were issued to all those over the age of 18 who attended the gathering, which included eight or nine children, according to Patrick.
The social gathering order was issued by the Board of Trustees (BOT) for the Confederated Tribes of the Umatilla Indian Reservation as one of the ways to protect the health and safety of Tribal members during the novel coronavirus pandemic.
Failure to comply with the social gathering order carries a potential sentence of a $5,000 fine or a year in jail.
In a phone interview June 30, Patrick said he plans to "explain myself and put it in the hands" of Tribal Court.
Patrick said he has no issue with COVID-19 safety protocols and, in fact, said he and his family were following those precautions "before we got in trouble."
"That's what I was preaching before the feast that we were probably going to get in trouble and that we should all remember to stay clean, stay safe and stay home," Patrick said.
But in the case of his gathering it was different for a couple of reasons.
First, Patrick said, he was limiting the feast to just family.
"I don't regret any of it. When I called family about feast I asked them all, 'Have you been staying home? And they all said our kids are going nuts because all we've been doing is staying home. And I thought as long as they've been staying home and are safe we can have a feast. Being that we have generations represented, we had to have that so our kids see it and the foods will come back. Through my own history, that's how I was told, how I was taught," Patrick said.
Tribal leaders say the COVID-19 social gathering order had nothing to do with feasts or other cultural activities which also were stopped for a time. The reason behind limiting the number of people who should gather together was to slow the spread of the coronavirus. It was all about public safety.
Patrick understands that, but he still "stands on the foods" and what he was taught.
"People ask me 'Do you feel like you did wrong?' Well I don't understand the resolution. I don't regret having so many people there. I called eight of us and then it grew because they wanted to bring their kids. I told them if they were staying home to go ahead and bring their kids.
"There was a feeling that we had that day the picture was put on Facebook. It felt good, something we did for the elders, we did for ourselves, we did for the youth, we did for those that ain't born yet," Patrick said. He suggested his feast, and perhaps the civil disobedience of it all, will be part of history.
He recalled the 1930s and 1940s when Tribal members got so tired of non-native BIA agents "telling Indians what they can and can't do" that there was an "uprising" that led to the CTUIR Constitution and self-governance.
"When I think about us doing the feast and the reaction this year I think we were right on. A lot of people don't really understand and they question, question," Patrick said. "If they listened and followed through and do what the elders told us to do they'd be okay too. They didn't so they came to question it."
Patrick said in the end he thinks "good will come out of this one way or another."
He said he may not have followed the resolution, but he followed Indian law.
"I'm not above the law, but there's a law that allows me to do that, to keep being Indian, to keep doing what the elders taught me to do without having to deal with this resolution," he said.