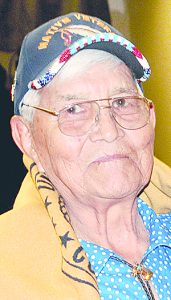 J.C. Penney
Jan. 29, 1926 – June 29, 2020
James C. Penney,"wit-sy-ky-kun," an enrolled member and life-long resident of the Umatilla Indian Reservation, left this earth of natural causes at the age of 94 on June 29, 2020 in his home.
He was born in a tipi on Jan 29, 1926 in Thornhollow, Oregon to Hiuse (Annie George) and Heyumetelekartset (George Penney).
He attended grade school at St Andrew's and later Riverside and Chemawa Boarding schools.
"J.C." joined the US Navy at the age of 17 and served in the Pacific Theatre during WWII aboard the aircraft-carrier USS Casablanca.
After earning service and combat medals and an Honorable Discharge, he returned home to the Umatilla Indian Reservation and became an active, life-long member of the George St. Denis American Legion Post 140, where he was well-respected by his fellow veterans.
Local jobs consisted of Harris Pine lumber mill, a firefighter with the Umatilla Agency BIA, and one of Yellowhawk's earliest A&D Counselors. He was an Indian-preneur, who managed his own business 'Penney Reforestation.'
An annual participant of Round-Up & Happy Canyon (carried in as a baby), he lived in the tipi village, danced in the arena, and rode his horse through many parades (and a few taverns too!).
JC was an outstanding athlete. He played football, basketball and baseball for the infamous Mission Indians and competed in golf and bowling tournaments all across the west. Hobbies include hunting, fishing, wood-cutting, camping, fantasy sports, and gambling … he was even in three movies: Pillars of the Sky, Sioux Uprising and Paint your Wagon.
He married LoraLee LaCourse in 1948 (whom passed in 2018) – after sharing nearly 70 years together while raising three children: Greg Penney, Stephanie Olsen and Candice Settle. Grandchildren include Travis Olsen, Jennifer Dalton-Brom, Jakob Settle, Antonio Pacheco and James C. Penney II; great-grandchildren include Aaden, Silas and River Brom, Colt Olsen and J.C. Settle.
He is survived by sister Joan Watlamet. Preceded in death by brothers Frank and Alex Shippentower, Lester Penney, and sisters Joan Penney Burnside and Viola Penney Wocatsie.
To say the least, JC was well-known, admired and loved by hundreds of family and friends, near and afar.