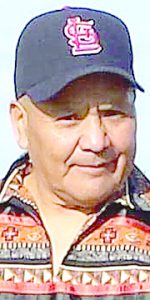 Rod Cowapoo Jr.
Jan. 25, 1961 – June 2020
Rod "Gibb" Cowapoo Jr. was born on Jan. 25, 1961 to Roderick Cowapoo Sr. and Thelma Johnson. He died June 19, 2020, at the age of 59.
Rod was an enrolled member of the Confederated Tribes of the Umatilla Indian Reservation.
He attended Wapato School District, but left in ninth grade to attend Pendleton High School where he graduated in 1980. He also graduated from Pablo Kicking Horse College and he worked at Yakama Nation Forestry.
He is survived by sister Roddena Tammy Cowapoo, and sons Andrew Jackson, Rod Cowapoo III, and Christopher Cowapoo, and his significant other, Annete Coyle.
He was preceded in death by Ronna Begay Alveda Cowapoo and Luke Cowapoo.
Cowapoo played Indian basketball tournaments and he played baseball. He loved coaching young kids' sports.
Services were held June 24 at Valley Hills Funeral Home in Zillah, Wash.