About five years ago Frank Lopez decided he'd create a little Halloween fun in the neighborhood and he's been making his yard look sicker and grosser and scarier every year since.
"Nobody was doing anything so I decided I'd decorate the yard and little by little … something to get the trick-or-treaters out here," said Lopez, a Coral Aztec Indian who is married to Melva Lopez, a member of the Confederated Tribes of the Umatilla Indian Reservation.
His effort started with a pair of simple ghosts hanging from string and a pumpkin or two.
Now he's into animatronics like Leary Larry who swings a lantern back and forth as he watches over a graveyard. For spooks like Leary Larry,
Lopez starts with a plastic Halloween skeleton, the kind you can buy at Walmart, then creates "rotting flesh" with plastic wrap that he paints with a wood stain. He uses a windshield-wiper motor to make his monsters move.
Lopez, an Army veteran who served stateside from 1990-1999, has lived on the Umatilla Indian Reservation for 10 years. His wife, Melva, is the head cook at the Senior Center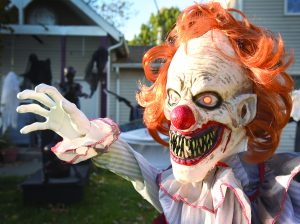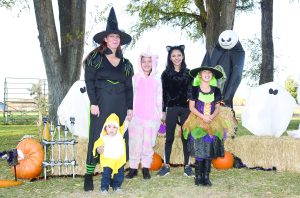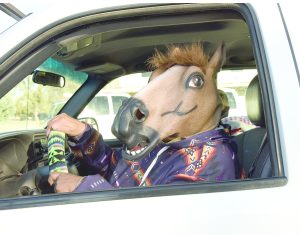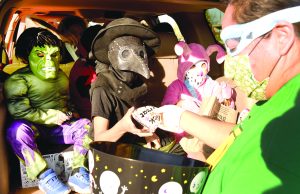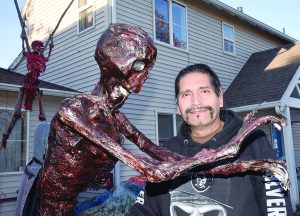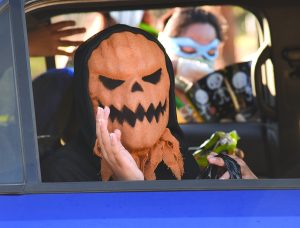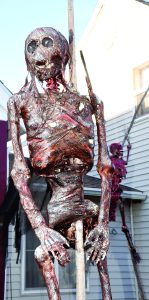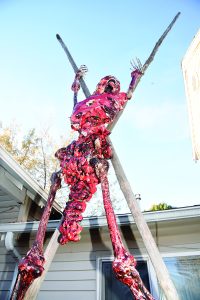 "